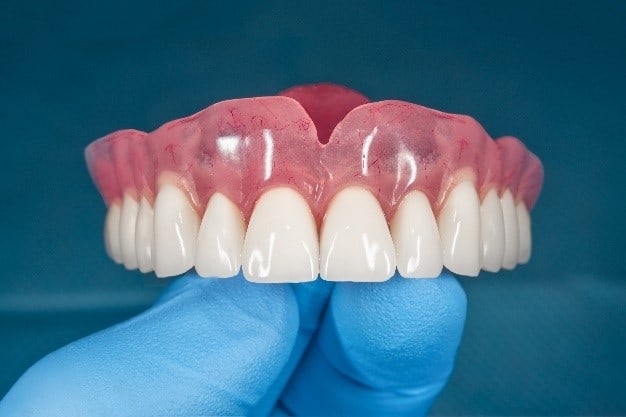 When you are missing an entire row (or both rows) of teeth, Dr. Robert Milner often recommends dentures. These removable prosthetics are a convenient and practical solution to restore the appearance and functionality of your mouth. Dentures created today look more realistic and fit more comfortably than dentures from decades past. This makes them a sensible choice for full mouth rehabilitation.  
Benefits of Dentures
The clearest benefit of dentures is an improvement to your appearance — with a full set of teeth, you can smile without hesitation. However, the benefits extend beyond the aesthetic. Dentures function like normal teeth, helping you to speak and eat. After practicing with your new teeth, you will be able to do both activities much better than you could with missing teeth.
Without teeth, your jawbone starts to atrophy, which is bad for your health and can even make your face look sunken in. Dentures help to keep the jaw structure in place and slow the erosion of the bone.
Dentures are usually less expensive than other full mouth rehabilitation options.
Getting Dentures: What to Expect
During a consultation, Dr. Milner examines and X-rays your mouth to assess the condition of all your remaining teeth. If several healthy teeth remain intact, he may suggest partial dentures or another option (like dental bridges or dental implants) that preserves these teeth. However, if you and Dr. Milner agree that dentures are the appropriate approach, he will extract the remaining infected teeth to make room for dentures.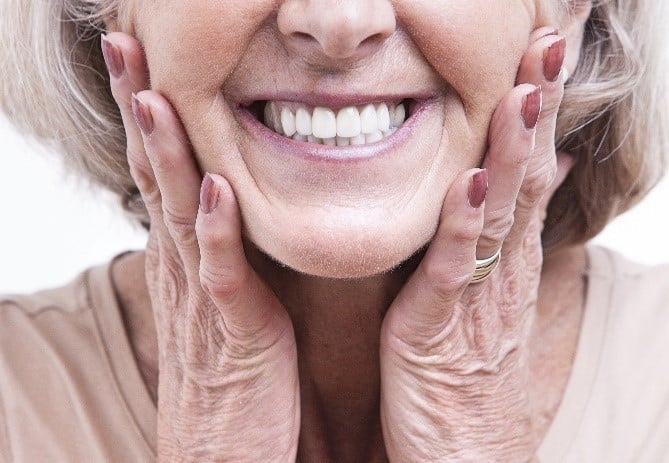 Next, Dr. Milner takes an impression of your mouth. The mold he creates then gets sent to a separate laboratory where technicians carefully create a set of custom dentures made of resin material. You can discuss with Dr. Milner your preferences as to the size and shade of the teeth so that your new smile looks exactly how you wish.
Once these dentures are ready, you return to the dental office to verify that they fit correctly. Dr. Milner checks that you can bite in a normal manner and that the dentures do not create a clicking sound in your mouth. If any problems are detected, they can be adjusted.
Caring for Your Dentures
Most dentures can last five to 10 years. To maximize the lifespan of your dentures, take good care of them. Each day, rinse your dentures with soap or denture cleaner. Brush them gently to keep them clean, but skip the toothpaste. Toothpaste has abrasive ingredients that can erode the resin on the dentures. It becomes much easier for plaque and food particles to accumulate in the crevices of eroded dentures.
Anytime you remove your dentures from your mouth, it is important to place them in cool or room-temperature water so that they hold their shape. Do not use hot water since that can warp the dentures. When dentures lose their shape, they may no longer fit in your mouth as intended.
Make an Appointment with Dr. Milner
Dr. Milner enjoys transforming his patients' mouths with a new set of realistic-looking teeth. To learn more about dentures from the most reputable dentist in Mission Viejo, please call (949) 859-8899 to schedule an appointment.